Learn quick and easy ways to make enhance your profile.
At ClearanceJobs, we recognize that cleared job seekers are more than just text on a page or a list of bullet points. You have diverse skills, a unique personality, and workplace preferences that help to paint your full professional picture.
The standard resume is no longer the key to hiring. And when it comes to standing out for hiring managers who scan dozens of resumes each day, visual elements are more important than ever. That's why the new ClearanceJobs profile uses infographic features to display important information in an interesting way.
Here are the top ways to optimize your new profile, and stand out to hiring managers.
1. COVER/PROFILE PHOTO
A cover photo is like a billboard or handshake - it welcomes employers to your career information. Select a cover photo from our library or use programs including Canva or Photoshop to craft a personalized image (although even a standard landscape or vacation photo will set you apart – just keep it professional). Make sure your cover photo is 1170 x 150 pixels. The cover photo makes a visual impact and gives you the chance to make a statement – literally. Updating your profile photo welcomes employers to your page and shows off your personality. Nothing is more welcoming than the human face.

2. STATUS MESSAGE
Updating your status message is a quick, easy way to let employers know more about you. Keep it professional. Talk about books you're reading, conferences you have attended, or webinars you're participating in. The status message lets employers know you're active and professionally focused.

3. SKILLS CLOUD
The skills section is another area to that takes generic resume information and allows it to make a visual impact. The skills cloud pulls relevant information from across your profile. It's a great way to gauge which skills permeate across your career profile and resume. Don't like what you see? You can hide it from employers - and then edit your profile accordingly.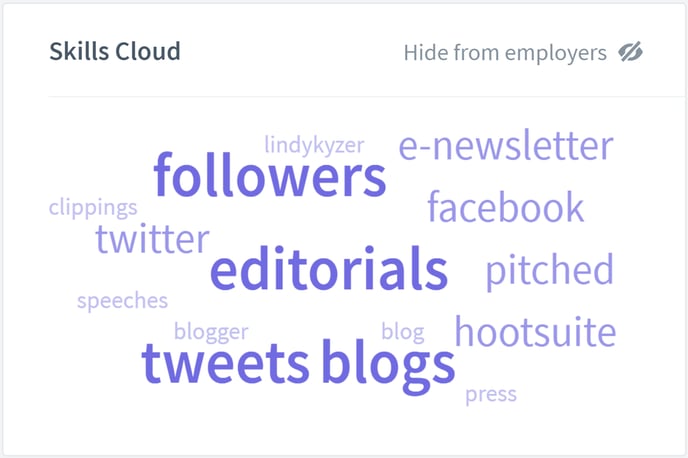 4. PERSONALITY/PREFERENCES
Most professionals don't leave a job because the work isn't what they expected – they leave because the workplace isn't. Help ensure you're a great fit by completing the personality and workplace preferences sections on your profile. Hiring managers want to know more about the candidates they hire, and sharing more about your personality can also help display the kind of worker you'll be. Workplace preferences let employers know the type of environment you would thrive in, whether it's professional or casual, early in and out, hanging with the coworkers or just working with them.