Tips to get more views and interaction from employers on ClearanceJobs.
Your candidate profile is first impression you make on a new employer. You want it to make an impact - and you want employers to see it. How can you get more views of your candidate profile, and potentially make a better match with an ideal employer? Here are a few tips:
1. LOGIN OFTEN
The more you log into your candidate profile, the higher your resume will rank in employer searches. It's a simple way to increase your visibility.
2. STAY ACTIVE
When you take the time to log-in, also take the time to freshen up your profile - add a Status Update, update your preferences, tweak your resume. Show employers that you are career minded by updating your candidate profile.
3. MAKE SURE YOUR RESUME IS ACCURATE
If you're not getting contacted by employers - or you're getting contacted by employers about the wrong types of jobs - maybe your resume is not a great match for the types of positions you're looking for. Search job listings in your desired career field, and see what skills are required or requested - do you have those skills listed on your resume? Also, remember that location is key to many employers. If you're willing to relocate, be sure to indicate that. If you're looking for a job in a specific area, make sure that's noted on your profile.
4. YOU'VE GOT TO GIVE TO GET
On ClearanceJobs, you have a variety of ways to connect with employers and make valuable connections. Don't just wait for companies to come to you - proactively search out companies and employers in your fields of interest.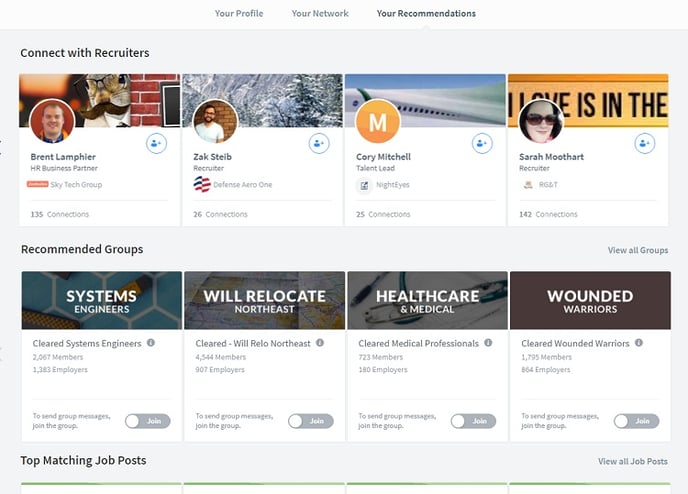 Your new candidate Dashboard includes recommendations for recruiters, groups and jobs. If you're not following any companies, in any groups, or connected to any employers - don't expect to have many profile views. Follow companies, like their Status Updates or activity, and connect with recruiters.
Taking a little initiative will help you build new connections and get more views.