Learn what the Pulse newsfeed does and how to leverage it to keep up to date with the cleared industry.
Sometimes it feels like the internet is a massive junk drawer: what you need is there, but you have to turn it upside down and root through a lot of junk before you can find it. Wouldn't it be nice if you had a professional organizer to make things easier to find? That's why ClearanceJobs is so excited to introduce you to Pulse – a newsfeed that gathers the content most valuable to you and puts it front and center. Essentially, we've Marie Kondo-ed your career profile for you – and it will spark joy.
Pulse gathers valuable content from your employer connections (Tweets, events, job posts, etc.) and automatically delivers it to your feed when you sign into ClearanceJobs. Looking for the latest jobs from a particular company? Trying to find an upcoming career fair in your area? Pulse will put it all at your fingertips.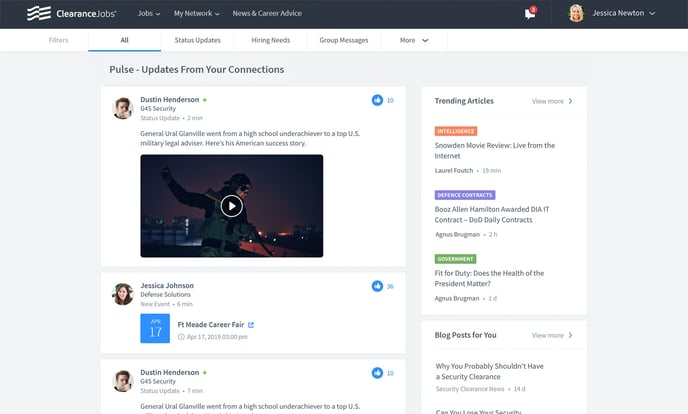 These are just a few of the updates Pulse will bring to you every time you sign into ClearanceJobs:
New job postings from your connected employers.
Suggested job openings that match your qualifications.
Upcoming events from employers or other relevant organizations.
Group updates and messages from ClearanceJobs groups you belong to.
Tweets from your connected employers.
Breaking news on national security, espionage, and the security clearance process.
Pulse will make it easier to find jobs relevant to you, connect with employers you're interested in, and stay up to date on your industry.
In addition to updates from your network, see the latest trending articles from ClearanceJobs and recent blog posts where you can join the discussion. All of this is found right when you log in to ClearanceJobs. Pulse is the home of everything happening within your ClearanceJobs network – easy to find, right where you need it.
HOW TO MAKE THE MOST OF PULSE
Don't let your new feed of great career information pass you by – use Pulse to engage and build your online presence. As a recruiter recently wrote, first impressions are no longer made in person – they're made online. If you see an employer update that sparks joy for you – comment, like, or reply! If you see an open position that's a close fit, but you're not sure if it's right for you – take the opportunity to connect with the employer who left the update.
Pulse is bringing you better career intelligence. But that intelligence is only what you make of it. Engage with the new insights coming to you, and watch your career flourish.