Use Dashboard and Tags to pipeline, filter, and organize cleared candidates.
Sourcing for security-cleared candidates today is complex - but the tools you use shouldn't be. Dashboard on ClearanceJobs gives you access to your most critical performance metrics and candidate recommendations in one location.
The main purpose of Dashboard is to provide you with easy access to the most important performance metrics for your candidate profiles without having to search for them. With Dashboard, all the critical information can be found in one place, allowing you to streamline your recruitment process and save valuable time.
Smart recruiters today understand talent pipelining isn't optional, it's essential. But it's not enough to build a pipeline - you have to organize your talent in a way that ensures you're accessing the right talent, at the right time - and adding new talent as soon as they enter the marketplace.
Dashboard helps you:
React to candidate activity
Filter candidates using tags and pre-selected criteria
Organize candidates in an easy to scan visual display
The Rolled-Up Dashboard is a tool that can be seen by users with Rolled-Up Dashboard permission and will display data for all active recruiters within the company. The feature allows those users to gauge seat usage and success for all recruiters on the ClearanceJobs platform.
HOW TO USE DASHBOARD
Click Dashboard > Overview to see your activity. Dashboard is a great place to begin your day - and to check back frequently. If you already enjoy your morning cup of coffee with ClearanceJobs, Dashboard is like a shot of espresso - helping to launch you into new candidate connections, check in with your reports, and keep your talent pipeline warm by reaching out to candidates with the most recent networking activity.
WHO'S LOOKING AT YOU, KID
Dashboard shows you which candidates have viewed your profile - so you can take quick action to add them to your pipeline or reach out with an opportunity.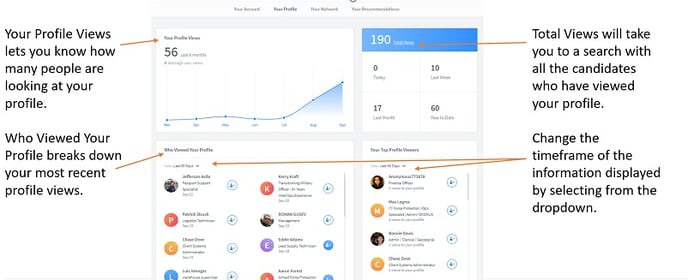 TAG LOVERS, REJOICE!
Tags help you find the needle in the haystack, and organize your candidates by clearance, skillset, location, or other criteria - whatever works for you. With Dashboard, your Tags are easier than ever to find and organize. Click the ellipsis, and quickly remove or edit existing Tags. It's your pipeline - make the most of it with Tags.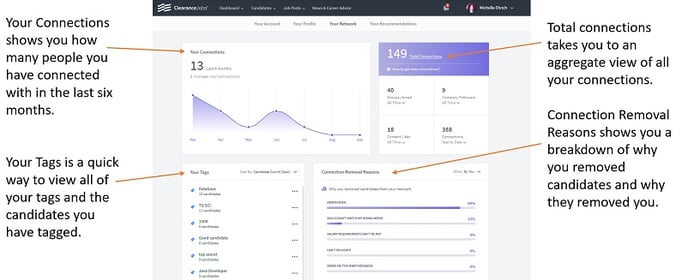 LET US SUGGEST YOUR NEXT HIRE
Wondering who to connect with next? Dashboard is also the home to your suggested connections - candidates who viewed your profile, or viewed or applied to your jobs. Check out recommended connections to build your talent pipeline.