How to schedule a meeting with a cleared candidate within the ClearanceJobs platform.
You've successfully found a suitable candidate for your open position and want to move forward with a discussion or interview. Now comes the tricky parts - first figuring out if the candidate is even interested and second, trying to find a time that works best for both of your schedules.
Enter ClearanceJobs Meetings. Integrated into ClearanceJobs Message, Meetings allows recruiters to securely connect ClearanceJobs to their Google, Microsoft Exchange, or Office 365 calendars and quickly invite candidates to engage.
Watch this instructional video on how to get started and when to use each Meeting type. Alternatively, step-by-step instructions are below.
CREATING A MEETING
You must have your calendar synced before you can send a Meeting request. Learn how to set that up here.
To create a Meeting, click on the calendar icon displayed in the Candidate Direct Message module. You can get there by viewing the profile of the candidate clicking on the green Message icon.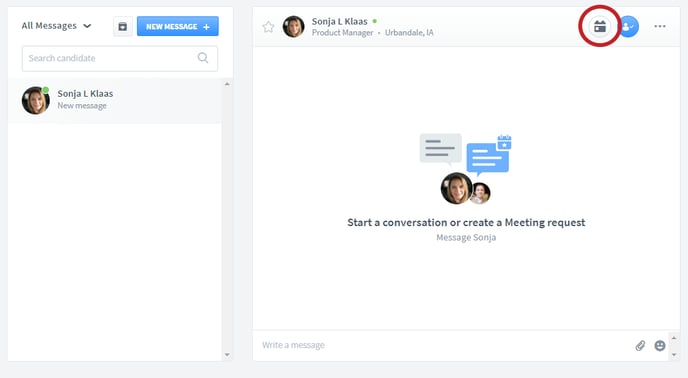 Sending a Meeting request consists of four steps:
Select the type of Meeting you would like to have.

Customize the Meeting Details with the name and length.

Completing the Invitation Message. This is automatically pulled from the Meeting Settings, but can be edited and previewed in this step.

Optional: Add a Conversation Starter.

Once you send your Meeting request, it'll be displayed in the Messages window (for both Recruiters and candidates) where the candidate can view and respond to the invite.
Employer view of Meeting request: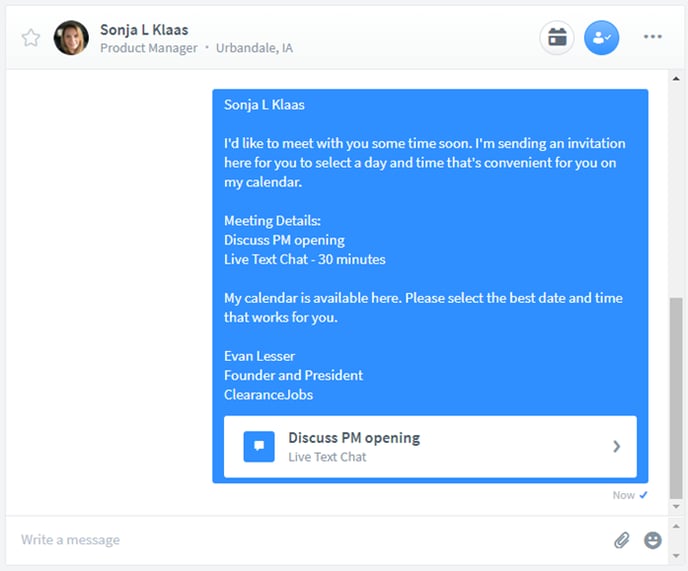 Candidate view of Meeting request: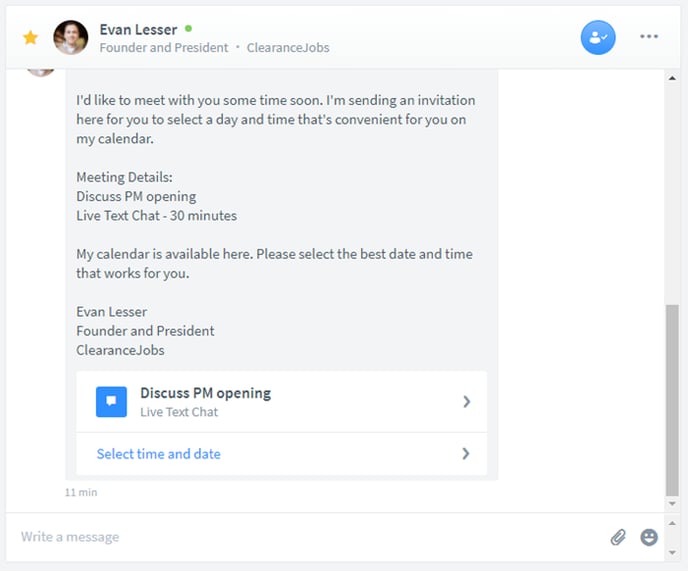 The candidate's response to your request will appear in the chat string, as well as in the Meeting Details page.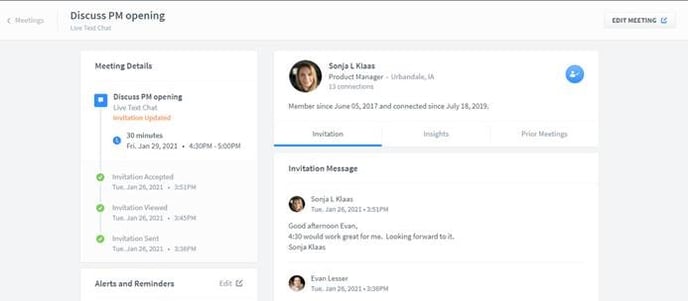 VIEWING ALL MEETINGS
The Open and Closed Meetings pages show you meetings that have been sent, accepted, declined, and occurred. It is a quick and easy place that you can go to see at a glance the status of your invitations, as well as the details of each.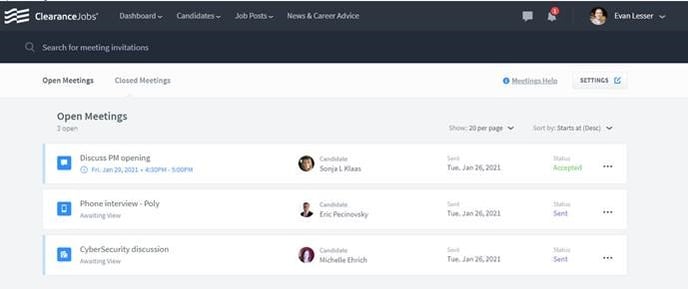 TECHNICAL DETAILS
ClearanceJobs utilizes Nylas.com for the Meetings functionality. The Nylas product will connect with the user's calendar to evaluate available meeting times. The integration only looks at the calendar's "free" versus "busy" times and does not read or consumer calendar information such as meeting participants, titles, agendas, or locations.
Recruiters may need to refer to their company Information Technology team to assist with the Meetings calendar integration. For additional information around the security and privacy of the Meetings functionality, you may contact cj_product@ClearanceJobs.com.