See the newest upgrades to the ClearanceJobs site.
What did ClearanceJobs release today? This release is named Deviled Eggs.
ROLLED-UP DASHBOARD
The Rolled-Up Dashboard is a tool that can be seen by Executive users and will display data for all active recruiters within the company. The feature allows Executive users to gauge seat usage and success for all recruiters on the ClearanceJobs platform.
ACCOUNT PAGE
The Account tab will display the Resume Views, Broadcast Messages, Direct Messages, and Voice Calls for the time period selected.
The boxes it will be a cumulative count for all of the users in the group.
The User Performance will give a leaderboard of all users that can be sorted. The page data defaults to a previous 30 days of data, however, the user can select a date range from the date selection dropdown.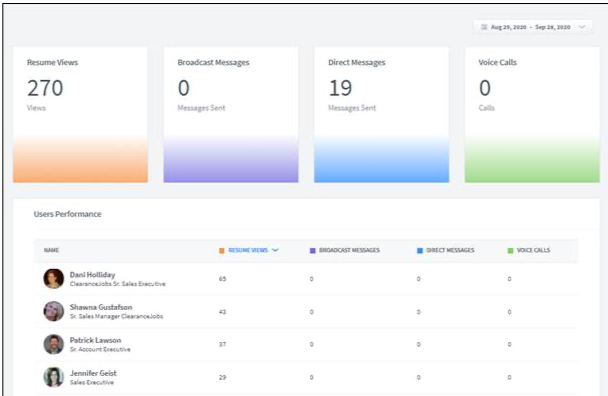 PROFILE PAGE
The Profile tab displays the total recruiter profile views for active users of the company.
The graph will show activity for the last 6 months for all active recruiters.
The Aggregate Views, Today, Last week, Last Month and Year to Date Views displayed to the right of the graph.
The leaderboard shows a breakdown of individual Profile Views for Today, This Month and Last Month. The columns are sortable.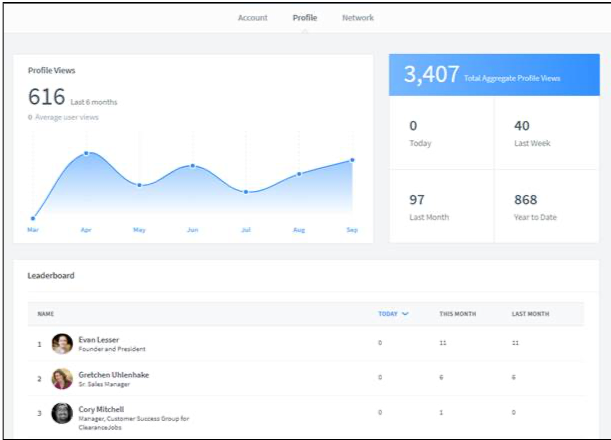 NETWORK PAGE
Network tab displays a variety of network activity for active users of the company.
The connections chart will show a six month view of the total number of network connections by month made.
The total number for the last 6 months of distinct Groups joined, total Followers for the company, Content likes and Connections will be displayed to the right. These statistics can also be modified by selecting a new date range respectively.
The Leaderboard will display Connections, Content Likes or Groups Joined. The leaderboard will default to all time connections but can be updated to show Groups joined or Content likes for specified date ranges per user preference.
The reasons for Connection Removal is shown for a cumulative overview. When the Removal by Recruiter is displayed, the user can be further break down the data by specific recruiter.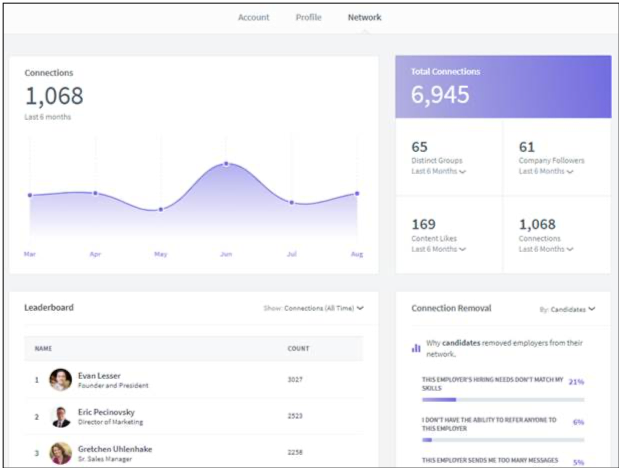 WORKFLOW UPDATES
Added link field to Workflow message
When sending a message through the Messaging feature via a Workflow, the user can now select to attach a link to the message.
Workflow- delay actions
The ability to delay sending a message through the Messaging feature by 5, 10, 30 or 60 minutes has been added to make the Workflows appear more "human".