See the newest upgrades to the ClearanceJobs site.
What did ClearanceJobs release today? This release is called 'Donut Holes'
FEATURES
Ability to search by Tags in the Advanced Resume Search! Please note that this feature is limited to the ability to search for tags. The team is currently working on the ability to also Exclude tags from a search. This will be released at a future date.

The employer can select Tags from the Audience Selection. They can select unlimited number of tags. The tags selected will appear as refinements on the search results page

UPDATES AND FIXES
Job Alert emails have been updated to the new NextGen look and feel.
Resume Alert emails have been updated to the new NextGen look and feel.
Emails generated from the ClearanceJobs system for new candidate registration, applications and others have been updated with the NextGen look and feel. (Please note, the one email that is yet to be completed is the Weekly Cleared Network Update. This will come a future release.)
The ability to add a link to a broadcast message has been resolved. The user will now see a field that will allow the user to enter a link rather than making it part of the broadcast message character count.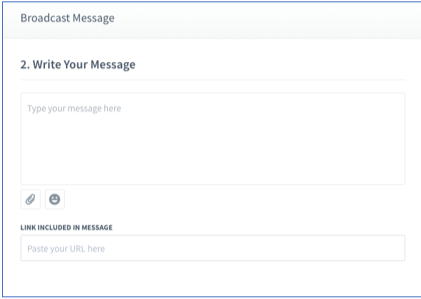 The inability to copy a job that was created by another user has been corrected.
The ability to retain the sort of columns on the job post page has been corrected.
Users that were having issues viewing the ellipsis button (…) on certain pages has been resolved.
The candidate profile has been updated to more clearly reflect the Refresh date and the Last update date. The two different dates will now use different Icons to indicate that they are different metrics.

On the Candidate Search Result page, the Clock icon indicates the last time the candidate has logged into the system and/or refreshed their profile. This does not mean that any updates were made to the profile information itself.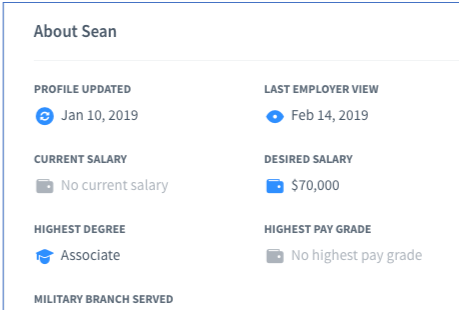 The Profile Updated that is found within the profile itself, has a new icon and indicates that the candidate updated information within their profile.
In some situations these dates may be the same, and in others, as seen in this example, they will be different.
On the candidate profile, the Send Message link was no longer clickable. This has been corrected.
Saved Searches, when a customer would modify the number of searches on the page, the modification was not retained if they navigated to a Saved Search and back.