See the newest upgrades to the ClearanceJobs site.
What did ClearanceJobs release today? This release is called 'Egg Salad'
FEATURES
• Updates to the Broadcast Message – ability to preview the full message before sending
The Preview button is in the top right corner of the message pane.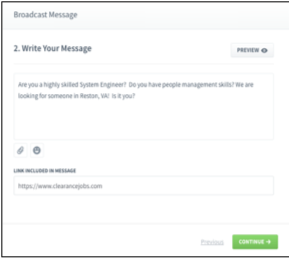 • The Candidate can now identify a Broadcast Message easier to help eliminate confusion as to why they were sent a message. The first line of the message that a candidate reads will say: Broadcast Message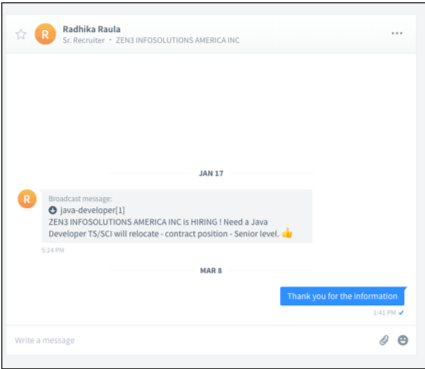 • Job Statistics are BACK! To view the job statics of a job, the user can simply click the … button on the specific job, see who has viewed the job, applied for the job, and download the report. Currently this feature is on a job by job basis.

• Ability to Exclude tags from a candidate search! Last release we added the ability to search for specific tags. This is now the ability to exclude candidates with a tag in a search. A user can include and exclude tags from one search.

BUG FIXES
• The ability to search connections in the search results has been enhanced. Previously, it could take 30 minutes for the connection to appear in the search results, now it will take 30 seconds.
• When a user is doing a Job Search or a Candidate search, as they scroll through the page of results, the filters and Boolean entry field will remain frozen at the top so a user does not have to scroll back up to the top of the page to make a change.
• "Too many requests" message would appear when the system suspected that a automated process was taking action on the site. For example, if they user was searching resumes with a spider. We have adjusted the setting to better define human activity vs automated activity.
• Fixes to Boolean highlighting in the search results bugs.
• Network Activity Email update that are sent every Tuesday have been modified to the new Next Gen look and feel.
• Update to the Group page due to candidates having trouble knowing what they should do after they join a group. Some changes to the wording on this page will assist with clarification, and/or reduce confusion.
• The preview button for the Network Personal Connection Email has been corrected to display what a candidate will view when they receive a message from an employer.