See the newest upgrades to the ClearanceJobs site.
What did ClearanceJobs release today? This release is named "Nori."
SELECTION OF EXACT CLEARANCE
In order to narrow searches better, we made changes to move the ClearanceJobs search from a minimum field to multi-select. You can now select the exact clearance level needed for your openings.
Please Note: For any existing Saved Searches and Workflows, the system was updated to select all clearances that were assigned to the minimum. For example, if a Saved Search had a minimum clearance of Secret selected, the search has now been updated to display Secret, Top Secret, TS/SCI, and Intel. These are the same clearances previously included.
ADVANCED RESUME SEARCH
IntelliSearch and Boolean were updated to be a multi-select field.

SEARCH RESULTS PAGE FILTERS
Filters are now multi-select with the count of available candidates per selection based on the current search results.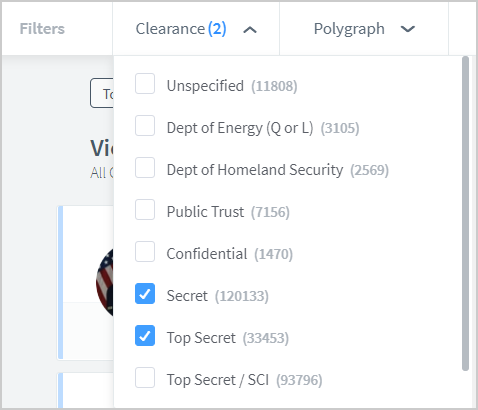 BROADCAST MESSAGES AND WORKFLOW
We've updated the required clearance field to allow for multi-select options. For Broadcast Messages, clearances will be limited to 5 selections, similar to the other required fields.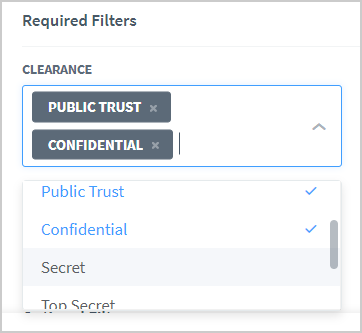 MESSAGE CHAT TYPING FEATURE
To allow for a more interactive experience for both candidates and recruiters, we have added indicators that let the user know when others are typing a message. There is now a blue ellipsis in the left column of the page that animates when someone is typing. In addition to the animation in the left column, the user can now clearly see when the other person is typing within the message text box.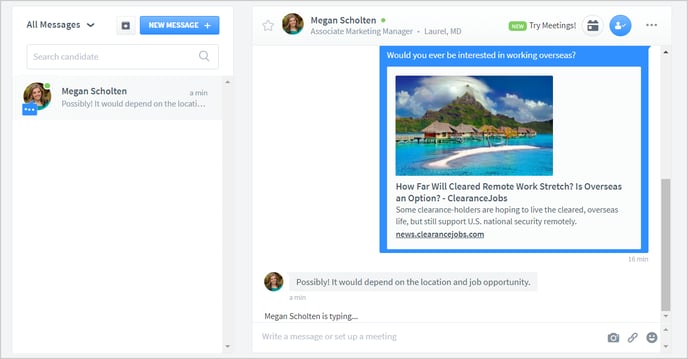 WORKFLOWS ADDED TO DASHBOARD
To showcase more of our new functionality, Workflows have been added to the Your Account tab of the Employer Dashboard. Workflows can also be seen on the Rolled-Up Dashboard for Executive Users. Workflows replace Voice as an item of note. An export button has been added for the Rolled-Up Dashboard and User Performance section.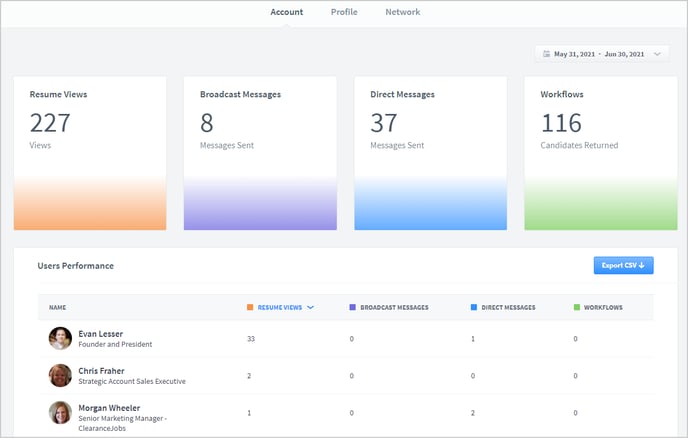 CHARACTER COUNT - RESUMES
To present more robust candidate information to the recruiters, the minimum character count for the resume has been increased from 250 to 1,000 characters. Any existing candidates with a resume of fewer than 1,000 characters will be required to update their resume.
DOWNLOAD REPORTS TO PDF
To assist customers with data integrity, a PDF download for reports was added. The PDF will allow customers to forward reports to others within their organization knowing that there has been no data manipulation.