See the newest upgrades to the ClearanceJobs site.
What did ClearanceJobs release today? This release is called "Ravioli"
INTERNATIONAL ADDRESS
Security-cleared professionals are needed domestically as well as internationally. The system has long-enforced the domestic address. However, realized that the need to better identify the current location of a recruiter or candidate is key to proper job/candidate matching. ClearanceJobs now allows international addresses.

Additionally, the system has always required the physical domestic address. This requirement has hampered candidate registration due to concerns for collection of non-essential information. With this knowledge, ClearanceJobs will no longer be collecting physical address requirements other than the candidate's city, state, and country. The zip code will continue to be required for all United States-based candidates.

Employer Profile changes to allow non-US-based locations
Employers have the opportunity to update their location with country and city in the Edit Profile section. The recruiter can also update the phone number in the About You section to an international number. Please note that if the number is international, the recruiter will no longer receive any SMS messaging. Only domestic numbers will remain opted into SMS at this time.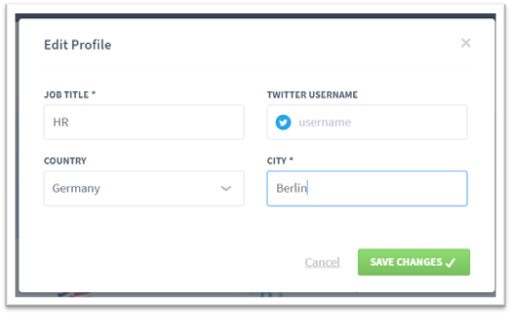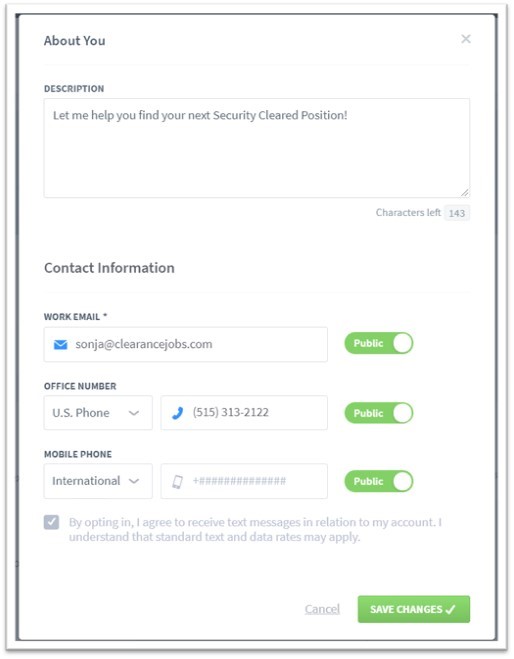 Candidate Search
Searching for OCONUS candidates will also be more straightforward. The addition of the Countries field will allow a recruiter to select up to five countries for any search performed through Advanced Search. The user can only search on the country of a candidate and will not be able to refine down to the city. Radius searches cannot be done for any country other than the United States. Please note that it will take time to build the database with candidates located in other countries. With this, it is important to continue to use keywords for desired locations when searching.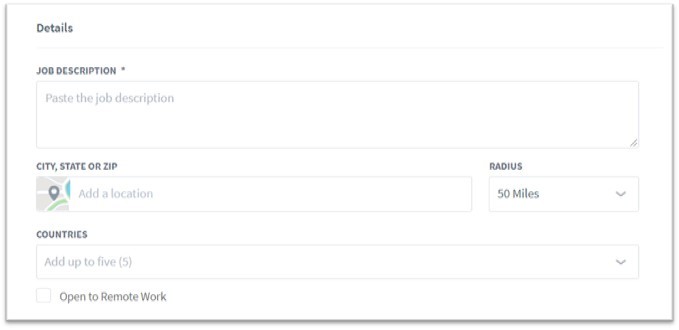 Country has also been added to the filters when refining searches.

Country selection has also been added to Broadcast Messages and Workflows. Employers will be able to select up to 5 countries when setting up their Broadcast Messages or Workflows.
NOTE: When a recruiter is set up with an international address, prior approval continues to be a requirement in order for the account to function and avoid an IP lock.
Candidate Profile
The ability to select a country other than the United States was added. The Country will default to the United States, requiring the City and Zip Code to also be completed. If a country other than the United States is selected, the user will only be required to provide the city information.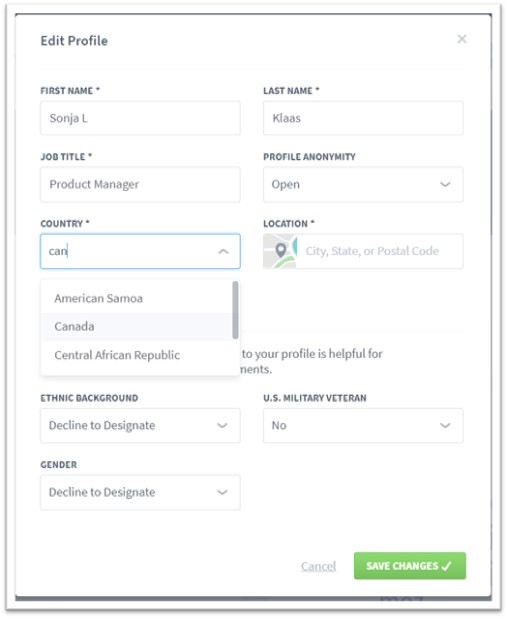 Employment Type
Employment Type is no longer a searchable field in Advanced Candidate Search. Candidates do not provide their Employment Type in their profile.
User Performance Report
Recruiters can now download the User Performance Report to PDF.
By October 1st, 2021, all traffic from Afghanistan will be blocked from accessing ClearanceJobs.